Top 10 T-Shirts from Movies
/
March 2nd, 2017
/
There are currently 0 comments
By LEWIS HANSON – TEAM BEARHUG / @PepsiLew22
As you can probably tell, we here at Bearhug love us a good t-shirt, and we love us a good film too. But you know what you really love? A good quality tee inside a good quality flick. But what are the best t-shirts ever featured in the world of film? Well, we're here to answer that for you. Here (in no particular order) are the Top 10 T-Shirts from Movies.
Vote for Pedro – Napoleon Dynamite
Why should you vote for Pedro? Well: he's got an awesome bike that he takes off some sweet jumps; he has a cool moustache; he offers you his protection; he'll make all of your wildest dreams come true; and most importantly, he has an awesome t-shirt.
Shark Cat – Pineapple Express
It's a shark with a kitten in its mouth – need I say more?
Flash – Flash Gordon
Not only was Flash Gordon the starting quarterback for the New York Jets that saved the universe from Emperor Ming, and had his own amazing theme song sung by Queen, he just happened to also wear one of the most iconic t-shirts in movie history.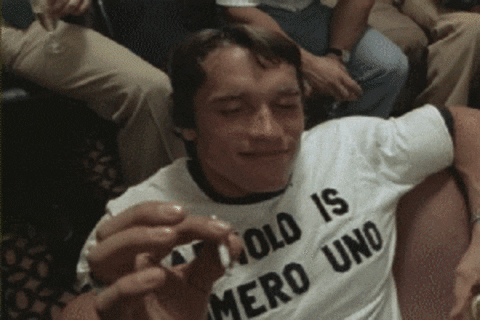 Arnold is Numero Uno – Pumping Iron
Only the legendary Arnie could pull off wearing a shirt with his own name on it, whilst holding a glass of white in one gigantic hand, and a lit cigarette in the other, all while resting a plate of friend chicken on his lap. For that alone, Arnie really is numero uno.
Luke's Arnie Artwork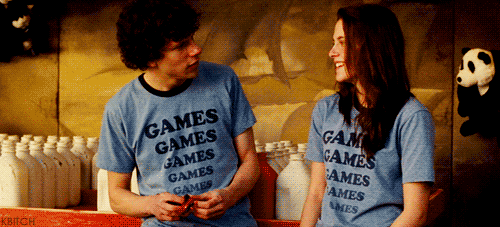 Games Games Games Games Games – Adventureland
Gotta love that faded, vintage look on this lovely ringer t-shirt from a lovely film.
Sock it to Me – Fight Club
Even though Rule Six of Fight Club states that you can't wear a shirt during a brawl, that doesn't mean you can't wear a cool tee when you're going over those famous set of rules.
Win "Rocky" Win – Rocky 2
He couldn't get the big win in the first film, but once he got this simple yet cool motivational tee in the sequel, Rocky managed to finally win the big one. Coincidence? I think not.
Luke's Rocky Artwork
Green T-Shirt – One Flew Over the Cuckoos Nest
Just a plain green t-shirt and a packet of cigarettes rolled into the sleeve were all the legendary Jack Nicholson needed to create one of the coolest, most iconic looks in movie history.
Wayne Stock – Wayne's World 2
We all know this 1993 sequel doesn't even compare to the 1992 masterpiece Wayne's World, but at least it produced a totally excellent tee.
Luke's excellent Wayne artwork
Kaoru Betto –The Big Lebowski
Although it was first worn by Jeff Bridges in The Fisher King back in 1991, he pulled this one back out of his wardrobe for his iconic role in The Big Labowski (a big favourite here at Bearhug HQ). We're not quite sure why The Dude has such an interest in this Japanese baseball star, but who are we to question His Dudeness.
So, what are your favourite movie t-shirts of all time? Let us know by leaving a comment below or drop us a tweet @thebearhugco.