Top 10 Art Documentaries
Here at Bearhug, we love a bit of art (obviously). We also love a good documentary too – programmes like David Attenborough's Planet Earth have been the inspiration for some of Luke's artwork, including the Snow Leopard and Lobo Wolf. But you know what we really love? A good art documentary, and here's a list of our favourites – Top 10 Art Documentaries.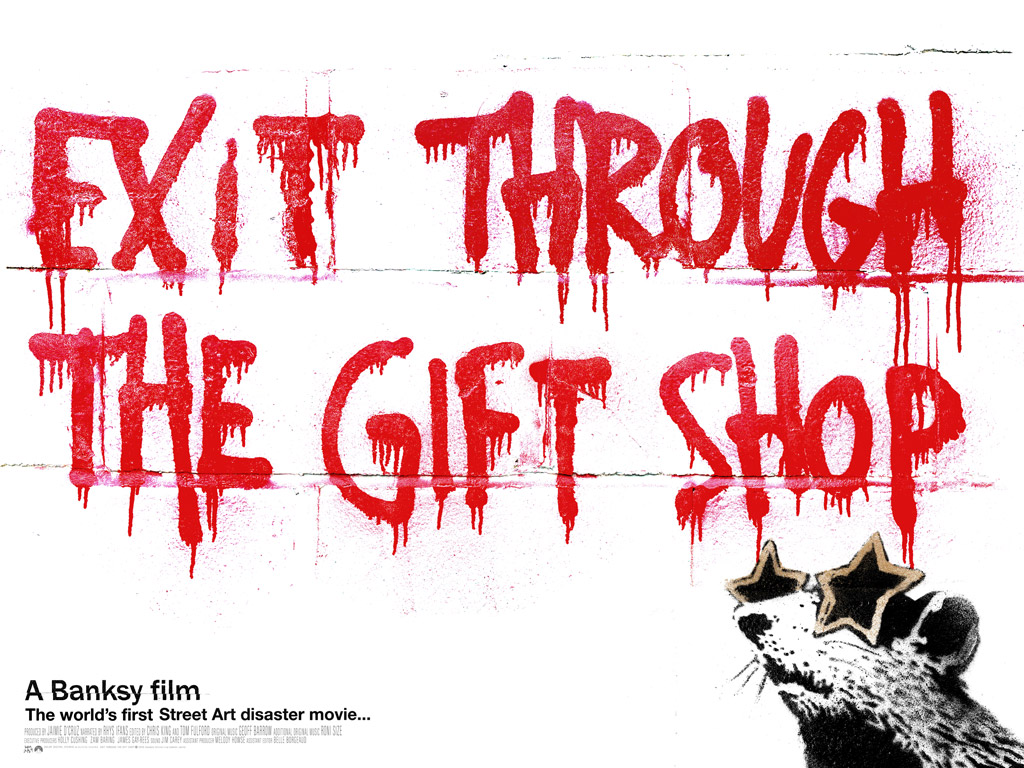 Exit Through the Gift Shop
One day, Thierry Guetta, a vintage clothing shop owner living in Los Angeles, decided to start filming everything he did. No matter how mundane, Guetta documented every aspect of his life in fear that he would have no physical evidence for his most important memories. Little did Thierry know that this strange obsession would lead him to filming street artists around the world, befriending the allusive Banksy, assisting him with much of his work, becoming a successful street artist himself, and ultimately, having a spectacular documentary film made about the entire experience. You'll enter Exit Through the Gift Shop with hopes of learning more about the world's most well-known and most secretive street artist, but you'll come away from it inspired by an even more captivating story.
Just Like Being There
This relatively obscure documentary takes an in-depth look at the world of gig posters, and the amount of talent, skill and detail that goes into them. What were originally designed as eye-catching ways to entice people into attending shows have now become expensive and desirable pieces, and taking a peek into this world of underground art collecting is fascinating.
Crumb
Robert Crumb was one of the most popular underground cartoonists of the 60s and 70s, most notable for creating Fritz the Cat, and the Keep on Truckin' comic strip, which became one of the most iconic images of the hippie movement. However, as this 1994 documentary proved, Crumb's art is nowhere near the most fascinating part of this man's life. Over a period of 9 years, filmmaker Terry Zwigoff delved into Crumb's unbelievable and unsettling family life, and his traumatic childhood that led one of his brothers to commit suicide, led another to refuse to leave his mother's home, and led Crumb to develop his signature, provocative art style. Described by some as the greatest documentary ever made, Crumb will leave you astounded, uncomfortable, and in complete awe at this truly unique story.
Jean-Michel Basquiat: The Radiant Child
Jean-Michel Basquiat: The Radiant Child is as much a celebration of a friendship as it is a celebration of an incredible artist. It explores the relationship between Jean-Michel and the director, Tamra Davis, as well as the influence and social impact his work had, and continues to have even twenty years after his death.
Herb and Dorothy
How did a postal worker and a librarian manage to amass one of the most important collections of Minimalist and Conceptual art in the world within their one-bedroom Manhattan apartment, and why did they donate everything to the National Gallery of Art in 1992? Well, Herb and Dorothy answers that, with a charming story about a simple, mild-mannered couple with a passion for art. Gerhard Richter Painting
Take a look into the studio of the world's most profitable artist, who in 2013 broke his own record for the sale of a painting by a living artist with a piece priced at $37 million. Watch Richter construct his million-dollar masterpieces using his signature 'blur' style in this essential documentary for any art lover.

Cutie and the Boxer
Have you ever wanted to see a topless pensioner paint on a giant canvas using boxing gloves? Well, now you do. Not only does this amazing and quirky documentary examine the work of artist couple Ushio and Noriko Shinohara, it also looks at their 40 year marriage, and their captivating, charming presence. And if you're still not convinced, let me remind you that there is an old man wearing box gloves with no shirt on covered in paint repeatedly punching a canvas three times the size of him – what more could you want?
Ai Weiwei: Never Sorry
Ai Weiwei is China's most controversial artist. What starts as a documentary about his latest show being installed at an art museum in Munich, Ai Weiwei: Never Sorry turns into a chronicling of his arrest and detainment by Chinese authorities for not being afraid to speak his mind and fight for what he believes in. You will be gripped by this man's fascinating story and unique personality – oh, and he also lives with 40 cats, which is worth watching for in itself.
The Joy of Painting
Is there anything more relaxing than watching Bob Ross and his mini afro painting trees and mountains?
Beauty is Embarrassing
Delve into the eccentric world of Wayne White – artist, director, and puppet designer of Peewee's Playhouse fame. You'll be captivated by White's eccentric yet delightful and hilarious personality, and absorbed his surprisingly eclectic career.