GLOW Review: Netflix's Newest Original Series
/
July 18th, 2017
/
There are currently 0 comments
California, 1985. Leg warmer sales were high, and Hulkamania was running wild. Out-of-work actor Ruth Wilder (portrayed by Community's Alison Brie) was struggling to find roles and struggling to survive. She's the 'real' girl nobody is interested in (a huge, welcome theme throughout the series), and try as she might, gets turned down repeatedly. That is until she answers a casting call looking for "unconventional women", with no other information. Little does she know she is about to be engulfed within the wonderfully strange world of professional wrestling.
Brought to us by the team behind the smash-hit Orange is the New Black, GLOW is Netflix's newest original series that will grip you and quickly take over your life until you've watched every episode in one weekend, and you're left crying, covered in food crumbs and questioning what you're going to do with the rest of your existence. GLOW centres around a group of unknowing, and at times unwilling, aspiring actresses that are thrust into an all-female wrestling show, ran by a sleazy, sexist, drug-addict director (played superbly by comedian Marc Maron), none of whom have any knowledge, experience or previous training in that industry. The show takes us on their journey, as they learn the ropes, the tricks of the trade, and a few life lessons along the way.
Similar to their other Netflix original success, GLOW is based on real-life events. Gorgeous Ladies of Wrestling (AKA GLOW) was a real show in the 1980s that turned hungry actresses looking for work into ridiculously camp wrestling characters, and it was a surprise success. Now although the characters within the Netflix series are all fictitious, there are clear references and inspirations from the original 80s show, and it serves as a love letter to the gorgeous ladies that came before them. For more information on the original series, check out the 2012 documentary, GLOW: The Story of the Gorgeous Ladies of Wrestling, which is now available to stream on Netflix (seriously, go and watch it, one of the women has wrestled with a real life bear. A FREAKIN' BEAR!)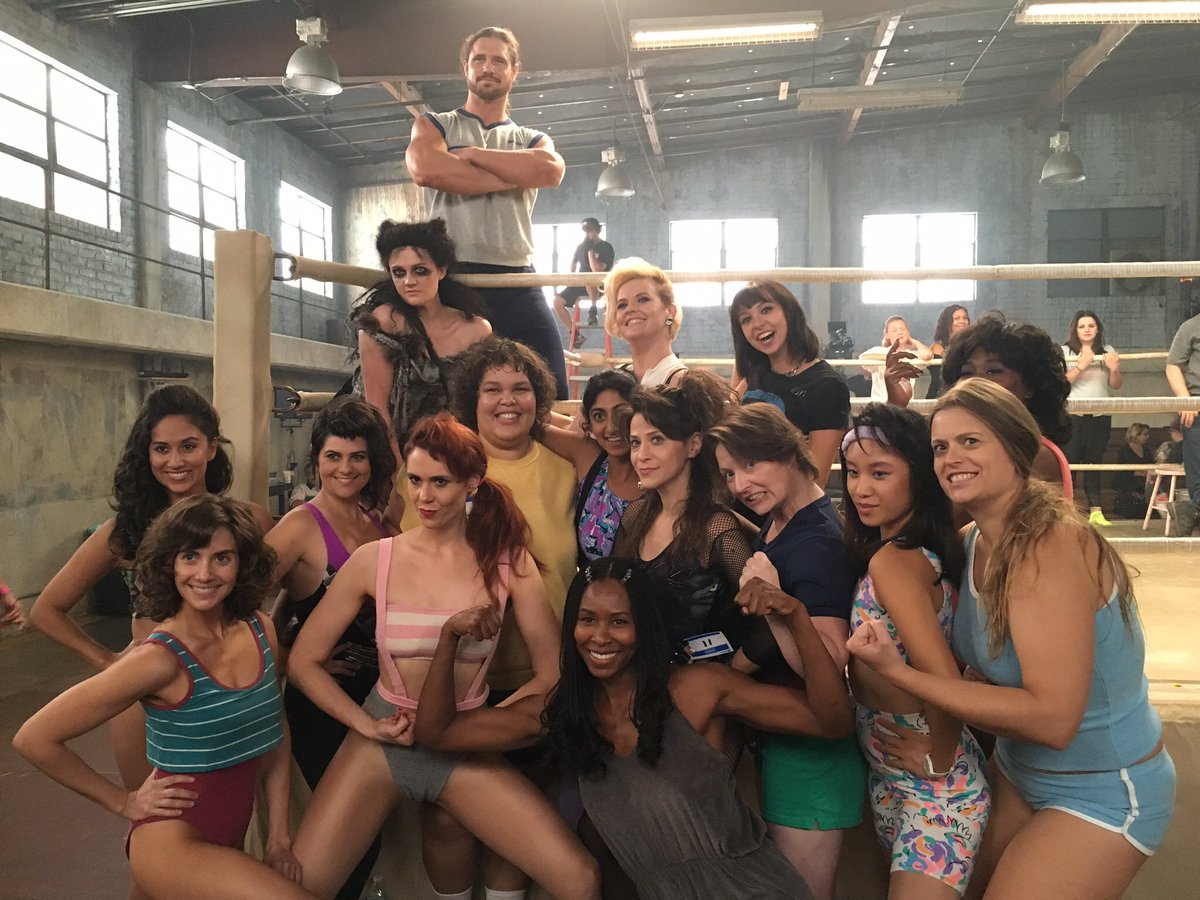 But this isn't a show just for wrestling fans, nor is it a show just for drama fans – it's one of the most broadly appealing originals in Netflix's library. Sure, the show is brimming with wrestling easter eggs, references and cameos (from Carlito, Brodus Clay, Awesome Kong, John Morrison, Joey Ryan, etc.) that will make any grappling fan smile, yet it's also full of drama, emotion, relatable situations, and hilarious moments. If you're a fan of OITNB, or WWE, you're bound to love this show either way.
Although it may be based around an industry that is regularly described as "fake", the representations of these women are refreshingly real. Women of all shapes, sizes, backgrounds and personalities are showcased and celebrated for exactly what they are – nothing is hidden away or given the Hollywood filter of perfection. Just like the team's other hit show, OITNB, issues are tackled head-on with no sign of holding back. Everything from racism, sexism, drug abuse and abortion are confronted head-on in every episode, but with a sprinkling of comedy to lighten the mood from time to time.
GLOW may well be the best show I've seen this year. It is so well put together, and every single person involved is clearly proud to be a part of this wonderful series. All 10 episodes of the first season are up ready for you to enjoy right now, and it'll be hard for you to not indulge in every single one of them in one camp, 80s, neon session. Full of drama, hilarity, twists and triumphs, this is a modern classic that you can't miss. Let's just hope we don't have to wait too long for the next series.
If you liked this, be make sure the check out our list of the Top 10 Shows to Binge-Watch on Netflix.